If you're considering creating your own website, you need to decide between creating one from scratch or using a content management system such as WordPress.
Creating a static website or using WordPress to build your website all depends on your budget, your tech-savviness, and what you're looking to achieve with your website.
While content management systems are easier to operate, static HTMLHyperText Markup Language. It's the standard language for creating web pages. websites perform better on the web. Both options have their advantages and disadvantages, but it all comes down to your needs and requirements.
In this article, we'll go over the main differences between WordPress and static HTML sites and the pros and cons of both options. We'll also show you how you can get the best of both worlds by using a static site generator for WordPress.
Differences between WordPress and Static HTML sites
A static HTML website is essentially a library containing HTML files that load the same way each time. Each HTML file represents one web page on the front-end and displays fixed content to every user.
Static websites work in a very simple manner and load content quickly. As soon as a site visitor lands on a static HTML site, the user's browser then makes a request to the server to load content. Then the server quickly responds and returns a single HTML file to display content on the user's viewport. Page elements or content can be customized only if the developer changes the HTML code at the back-end. This works great for experienced web developers who want to create a self-hosted HTML website that looks and performs great.
Simply Static Pro
The static site generator for WordPress. Better security and performance for your WordPress website.
On the other hand, WordPress is a robust content management system that enables all types of users to create HTML websites. It's important to note that while all WordPress sites are HTML-based, not all HTML sites are WordPress-based. WordPress sites are not only great for developers but also are a great option for beginners.
This is due to the support for WordPress plugins and themes that lets you create amazing web pages, without having to touch a single line of code. You can customize all design elements of your WordPress site and make it look exactly how you want. However, this doesn't mean it's not suited for experienced web developers. WordPress developers can use themes and plugins to build their site and add custom code for advanced functionality or to create a bespoke design.
WordPress or Static: Pros
Here, we'll go over some of the pros of using WordPress and compare them with static HTML websites.
WordPress
One of the best parts about WordPress is the ability to manage content without touching a single line of code. It's suited for all types of people who want to publish content, sell products or services, or showcase their portfolios.
Along with the default WordPress customization options, you can use plugins and themes to further extend and add new functionality to your WordPress site. For instance, you can use a WordPress theme to change how your homepage looks using pre-built templates. This takes out the time-consuming process of combining all page elements into something that looks good on the front-end.
In addition to this, you don't have to worry about "committing" to one design. This is because it's so easy to change the whole look and feel of your WordPress site within a few minutes. This means that you can change up your site's design whenever you'd like in a few clicks.
Static websites
While static HTML websites don't offer an intuitive user interface to manage content and build your website, you also don't have to worry about using software to maintain your website. Unlike WordPress themes and plugins, you don't have to "update" anything. Once you add functionality or code to your HTML pages, you can leave things alone and don't have to worry about updating or adding new code snippets to them.
Another great thing about static websites is that you have easier access to the underlying code of your website. This way, you have an easier time inputting certain types of markup in your code or simply editing page elements.
WordPress or Static: Cons
Here, we'll compare some of the main cons of using WordPress versus HTML to create your website.
WordPress
Since WordPress sites work by sending data back and forth through a database, it can negatively impact the performance of your website. This is especially noticeable if you have a larger website with multiple pages that have tons of content published on them. This results in longer loading times and causes a poor browsing experience on your website altogether.
Similarly, if you use WordPress plugins or themes, they add additional code to your PHPA widely-used programming language especially suited for web development. file. This not only puts additional load on the server for displaying page elements but also increases the chances of your site crashing due to compatibility issues between two WordPress plugins or themes.
Static websites
While static websites are quicker and more responsive, they are not very user-friendly, especially if you're not a developer. This is because adding new functionality is a long and tedious process as it requires you to edit the main code of your web page.
This is not only confusing for non-developers but also makes your site more prone to bugs and issues if you're not very experienced with coding. For instance, to change how your website looks on the front-end, you will need to edit the CSSCascading Style Sheet. It's a language used for describing the look and formatting of a document written in HTML. for your web page. This is not user-friendly and requires you to have extensive skills and knowledge of web development and programming languages.
Using a static generator for WordPress
WordPress sites are easy to use and customize; however, you don't want your website to load slower and rank lower in search engine results.
This is why it's recommended to create a static web page for your WordPress site, especially if you're not very experienced with coding.
You can use a robust static generator pluginA piece of software that adds specific features to WordPress. for WordPress, such as Simply Static, to create a fully static webpage on your WordPress-based website. This way, you have the benefits of easy customization and an intuitive interface while enjoying the speedy performance of static HTML websites.
Simply Static is an all-in-one solution for creating fast and secure static WordPress sites, even if you don't know how to write a single line of code.
Simply Static Pro
The static site generator for WordPress. Better security and performance for your WordPress website.
It offers a one-click static site generator that lets you convert your existing WordPress website into a fast and secure static version. Once you're happy with the look and feel of your static website, you can export it as a zip file to other CDNs.
The best part about Simply Static is that it's really simple to use and saves you a lot of time, labor, and money in generating static web pages. Additionally, it's a great way to get the best out of both worlds: the performance of static HTML websites and the customizability and ease of use of WordPress sites.
Here's how you can create a static website in WordPress using Simply Static: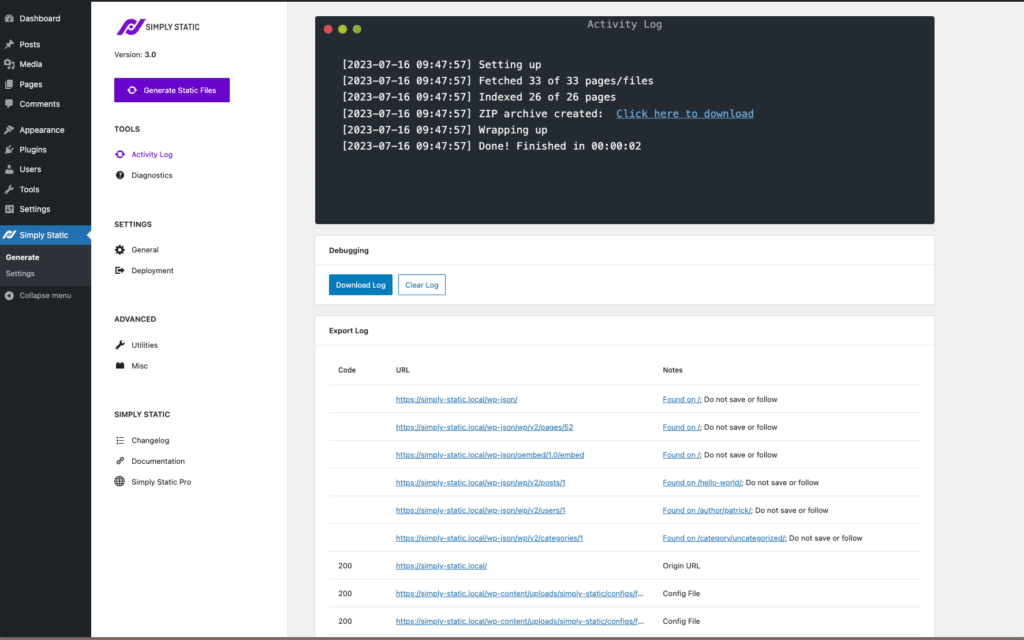 Start by getting the Simply Static plugin and installing it on your WordPress site.
With the plugin installed, navigate to Simply Static → Generate.
Simply click on the Generate Static Files button and click on the Click here to download link to download your .zip static website file.
It's really that simple with Simply Static! All you need to do is click a button and wait a few seconds for the plugin to automatically do all the work for you.
Conclusion
Creating a website with WordPress is not only easier but also offers advanced customization options and the ability to create dynamic web pages. However, static HTML websites perform better but are more difficult to customize and manage, especially if you aren't familiar with coding.
This is why you need to use a static site generator to get the best out of both worlds. Your web pages will load quicker and rank better in search engine results pages while letting you easily customize page elements with easy-to-use WordPress options. Simply Static stands out from other static site generators as it's very lightweight and works seamlessly with all types of WordPress sites.
Simply Static Pro
The static site generator for WordPress. Better security and performance for your WordPress website.