A couple of reasons can prevent Simply Static from starting a static exportThe process of saving the files and data from your WordPress site to create a static site. of your website. Let's cover the most common problems you may face:
Use Diagnostics to find the problem
The first step of debuggingThe process of finding and fixing errors in software code. the problem should always be Simply Static ->Settings->Diagnostics. You will find a lot of useful information here that helps to get a general idea of why the export did not start: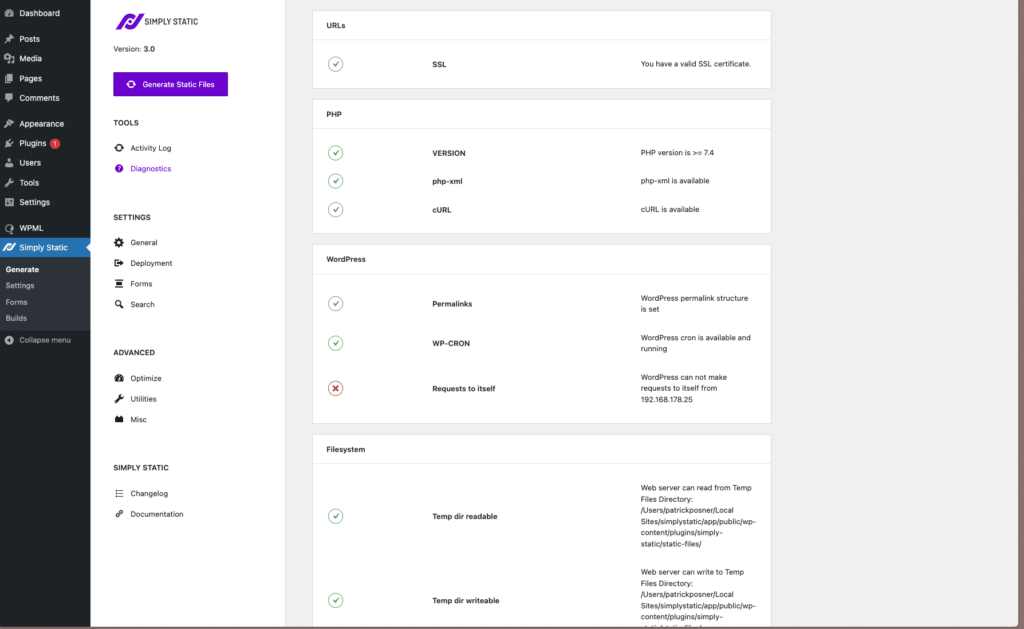 URLs
You may not have an SSLSecure Sockets Layer. A technology that encrypts the data transferred between a user and a website. certificate activated for your website. You will need one and serve your website via HTTPS to use many of Simply Static's features. GitHubA web-based platform for version control and collaboration, allowing multiple people to work on projects at once., search, and forms support, to name a few.
Filesystem
Make sure the temporary directoryA folder in a computer's file system used for storing files and other directories. is writeable. Simply Static will use that to save the static files for the website temporarily before sending them to your configured place (local directoryA folder on your computer's hard drive where files are stored. In the context of Simply Static, this could be the place …, GitHub, BunnyCDNBunnyCDN is a service that helps your website load faster by storing copies of your site's files in multiple locations...).
How to fix
You can change it yourself by navigating to the displayed path via SFTPSecure File Transfer Protocol. A secure method of transferring files between a local system and a remote server. or SSHSecure Shell. A method for securely connecting to a remote computer. and changing the permissions or asking your hosting provider to modify it accordingly.
WordPress
WP-Cron
If you have a large website that you like to export, use WP-CRONA function in WordPress that automates scheduled tasks, like publishing scheduled posts or checking for plugin updates. and make sure it's available in your hosting environment.
How to fix
If not, get in contact with your hosting provider to activate it.
Check if WordPress can make requests to itself
If WordPress can't make requests to itself, you can't export your website with Simply Static. This happens if the public URL of your website is different from the one used for your WordPress admin area. There are a couple of hosting providers like Siteground and WPEngine that are using this setup to provide better security.
By using WordPress as a static site generator, you don't need any special hosting providers for your WordPress website at all, as your visitors will never touch it and only interact with your static website.
This problem can also happen if you use an IP instead of a fully qualified domain for your WordPress website.
How to fix
A filter is implemented in Simply Static to change the URL used to check remote requests. You will use that to change the URL to the public URL of your website like so:
You can add this to the functions.php of your child theme or use the Code Snippets plugin to add it.
Rest API and XML-RPC
Simply Static doesn't rely on XML-RPCXML Remote Procedure Call. A protocol that uses XML to encode the calls and HTTP as a transport mechanism., but if you also deactivated the default WordPress Rest APIRepresentational State Transfer Application Programming Interface. A set of rules for building web services, allowing di… Simply Static will have a hard time starting a static export from within the UIUser Interface. Part of a software application that users interact with, such as buttons, menus, and forms.. The export runs with an AjaxA technique for updating parts of a web page without refreshing the whole page. It allows for faster and more interactiv… request (like saving posts) – if there is something wrong here, you will most likely get a lot of issues within your WordPress admin area.
How to fix
This can be caused by a lot of things. I would recommend deactivating all other plugins and trying another static export. If successful, activate them one by one to find the pluginA piece of software that adds specific features to WordPress. causing the issue. Also, have a look at your wp-config.php – maybe you deactivated it here?
PHP
The issue can also be related to PHPA widely-used programming language especially suited for web development.. There aren't too many requirements to use Simply Static, but you should make sure that you are at least using PHP 7.4 or higher, have the cURLA command-line tool used to transfer data to or from a server, often used in PHP scripts for server communication. extension activated, and that the PHP-XML package is installed if you like to use the XML ParserA tool that reads XML documents and converts them into a structure that's usable by a computer program. (for XML-Sitemaps for example).
How to fix
If there is something missing, get in contact with your hosting provider and let them activate it.